I recently made an order with Bessel in the UK. I needed a few bits, and have been hankering for a boom arm to use for hairlights/overhead light. I do have an Enlichrom Polystand, which is pretty amazing. I use that for my main light though. As much as I love it, I couldn't ever justify buying a 2nd one. Bessel do a boom they call the Incline Arm Stand. There's no direct link, it's in the middle of the stands page at a cheap £49.99 plus VAT. Over 1/4 of the price of the Polystand, albeit with no wheels.The boom arm stores inside the main body of the stand, and can act as a much taller stand, something I aim to try out soon. The arm slides out and the hinge allows you to then angle the top 2 sections of the stand as you see fit. There's a screw on weight to counter balance whatever light and modifier you attach. The trick is to have the arm set so that the light and weight provide balance, so the locking screw is only clamping the arm to prevent movement, not to support the light. That's an accident waiting to happen.
I've set it up to hold an Elinchrom Quadra, with one of the Bessel 7″ barn door and grid kits on it. The kit contains gels in gel frames too, a bargain at £25 inc VAT. I've cheated a little, using the pack as additional weight hanging from the boom. You can see the Bessel stand tucked in behind the Polystand/Deep Octa.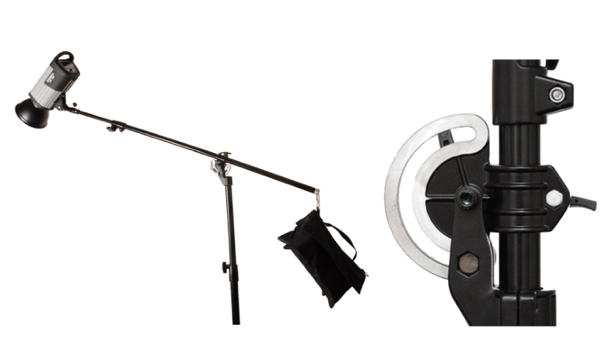 The interconnects on most of the stand is plastic, but seem sturdy. Still I can see the potential for over tightening, but this is possible even in more expensive stands. The main body interlink has a grub screw, which can be tightened to provide additional support. The main hinge is also another area where over tightening may cause problems, but if you balance correctly, this shouldn't be a problem.
Verdict? Well worth the money to get a sturdy boom. 8/10 for the value, with the few points knock off for the potential damage from overtightening.
---