With the advent of Lightroom Blog in 2006, I fell into writing. In 2009 I was commissioned to write my first book, Photoshop Lightroom 2 Made Easy with Photographers Institute Press. Due to contractual obligations I wasn't in a position to write again until discussions with Craft & Vision lead to the release of Essential Development for Lightroom 4. With all the new changes, a revision was done for Lightroom 5. Between the 2 books, I'd gone from an occasional columnist with Photoshop User magazine to a regular one. With Scott Kelby (owner of said magazine) doing a seminar in London, I flew over. Glyn Dewis and Dave Clayton were there on the day and Dave mentioned I could pitch to Rocky Nook. So I did, which resulted in The Indispensable Guide to Lightroom CC, almost 500 pages of Lightroom and plugin learning. When Scott returned again, I went over with my preview copy of the book and met Ben Brain, editor of Digital Camera. A few emails later and I began writing for the magazine. And that folks, is how you accidentally become a writer! Currently I'm updating Essential Development.
Books
THE INDISPENSABLE GUIDE TO LIGHTROOM CC: Managing, Editing, and Sharing Your Photos

In The Indispensable Guide to Lightroom CC, (note this is for Lightroom Classic and previous versions, not the new Lightroom CC)  Sean McCormack brings his expertise and experience as a professional photographer, Adobe Community Professional, and Lightroom Master to provide an accessible guide to learning Lightroom. In this book, Sean focuses on the fundamentals of Lightroom CC, using a hands-on learning style to carefully walk users through Lightroom's features, including file management, image editing, slideshows, printing, sharing, and much more. This book provides detailed, illustrated descriptions of the program's most important features and capabilities to get new users up and running quickly, and it covers all the new features of Lightroom CC to keep advanced users ahead of the curve. The Indispensable Guide to Lightroom CC makes learning this extensive photo-editing program simple, fun, and fast.
Essential Development: 20 Great Techniques for Lightroom 5
Essential Development:Lightroom keeps changing, and most of us don't have time to dig around under the hood to learn it all. Essential Development is no-holds-barred guidebook that can help you explore, modify, and dig deep into the Lightroom 5 tools you need to make your post-processing efforts more productive and produce the final images your portfolio deserves! The eBook is divided into 20 chapters, focused entirely on the Develop module, covering topics such as: Understanding The Histogram, Making White White, Beauty Retouching, Dodge & Burn for Beauty, Cross Processing, Achieving a Filmic Look, Image Toning, Tilt Shift, Effective Sharpening, and Correcting Lens Issues. Currently being revised and updated for Lightroom Classic CC.
Photoshop Lightroom 2 Made Easy
This is my commissioned print book for Photographers Institute Press, the book arm of GMC publications. GMC also publish magazines like Outdoor Photograper and Black and White Photography. The book is aimed as an introduction to Lightroom and mixes explanation with advice. It's not a comprehensive book, like some of the 400 and 600 page books out there, but it does aim to get the reader familiar with Lightroom, without too much stress or fuss.
The book is obviously well out of date, but I still have a few copies left if people wish to order signed versions of them.
Craft and Vision 2: Another Free eBook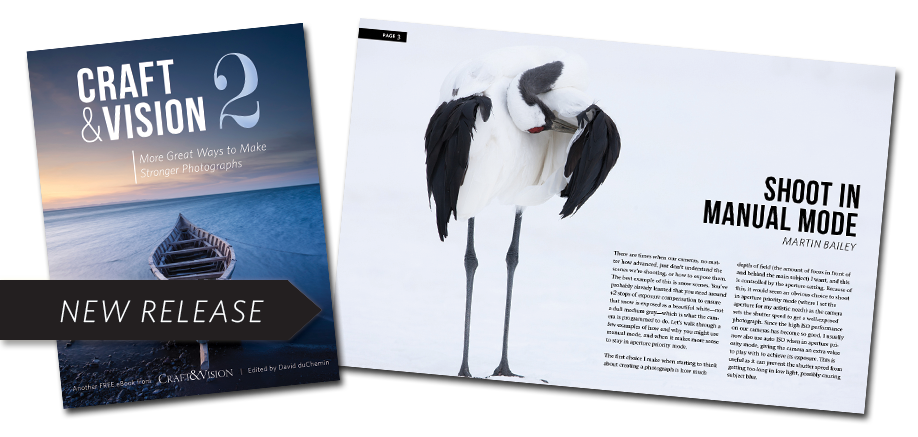 As part of their product promotion, Craft and Vision give away compilations books with articles by current authors. In this, their second such compilation I've an article on Mixing Flash and Ambient Light in this, but there are far more excellent articles besides that. Did I mention that it's free?
Magazines