One aspect of my lighting Masterclass at the Societies Convention was the modifiers you can use on speedlights. For a lot of my work (some of it is on the site and the blog), I use a Godox 120cm Octa (which can be bought from this Ebay link for less than $30 shipped). You can also get it on Amazon UK US Affil. I've had others before, but the key advantage of the Godox (besides the excellent material), is that it uses fibre glass rods, making it really robust. So much so that I was able to bend it enough to fit in my suitcase safely. I use this as both a key light and to get a white background on headshots.
On the other end of the pricing scale is the Elinchrom Rotalux 70cm Deep Octa (Amazon UK/US Affil). This is one of my favourite modifiers of all, because it's so versatile. Without any diffusion, it acts as a parabolic reflector, focusing the light for a really efficient response. Because it's an Elinchrom product, it can be used with any of the Elinchrom deflectors, making it act like a beauty dish (it ships with a white one). With just the inner diffusor attached, it gives a beautiful soft light, but with a little kick from the visible silver on the outer part of the softbox. You can add the outer diffusor for even softer, less contrasty light. There's also nothing to stop you using just the outer diffusor; this will give soft light, but not as soft as with both. So that's at least 5 different looks you can get from one modifier.
The Deep Octa is a studio product, but there are a few different product that allow you to use them with speed lights. I've gone through a few of them, and by far the best is the Godox Bracket for Elinchrom (Amazon UK/US Affil). Firstly, the flash is clamped in place, rather than using the hotshoe, so balances better. The tilt arm is really robust. It also takes an umbrella or deflector via spring clip. Finally the wide outer ring fits any of the Lastolite EZ Box softboxes-Godox also do their own softbox kit version with a bracket.
The other value product I showed was the Meking Studio Ringflash. This softbox ring flash works on camera for a softer ring light look, but works just as well off camera. You can also put gels inside it via the next modifier! Again here's an Amazon UK/US Affil link, but you can get it cheaper on Ebay.
The final modifier is the MagMod system. This is a mounting system that uses strong rubber and magnets to support a range of modifiers that include gels/holder and grids. I love it. Gone are the velcro straps that are a pain to use, and attaching a grid or gel is so much easier now. I use them with both grids and gels and will add a snoot at some stage.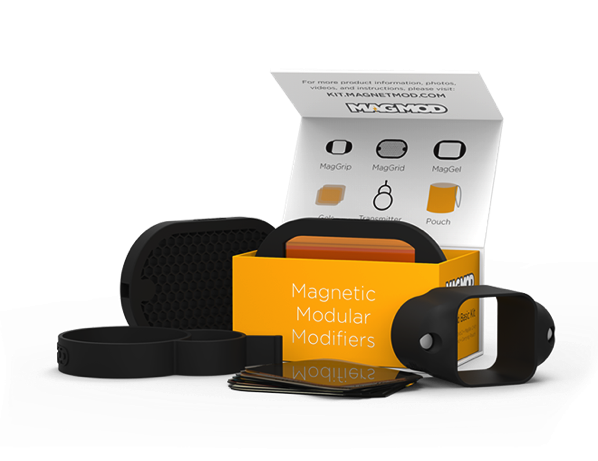 Note: Affilialte links are marked as such. It's not Irish law until March , but I'm showing them as such right now. I don't get much from them, and it doesn't cost you any extra. If you find the information useful, please use them to buy!
---