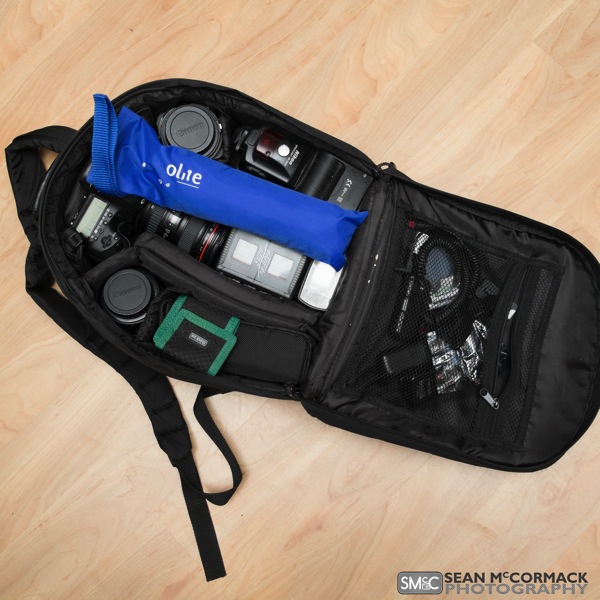 My bag is packed. I'm ready to go..
Real estate work today, so I've packed my bag for it. I love looking through other people's bags, so maybe I should post mine in return! The bag itself is a basic Hama bag from 7dayshop.com.
So here's the contents:
Big Bits!
Canon 5D MKIII
Canon 17-40 f4 L
Canon TSE24 Mk I
Canon 85mm f1.8 USM
Canon 580ex MkII
Nikon SB28dx
Neewer TT850 X2
Lastolite Trifold umbrella.
Small Bits
Godox FT-16s trigger (1 transmitter, 2 receivers)
Yong Nuo RF602 (1 transmitter, 2 receivers)-on of 2 sets I have
16 AA batteries (7dayshop Eneloop copies, Eneloops and Lidl)
6 AAA (7dayshop Eneloop copies)
Spare tripod plate
Camera battery
Card holder with CF and SD cards
Pen
As you know from the previous post on flash, I'm loving the Neewer flashes. Today was a day where something I've suspected became more obvious. The batteries are a dud. They just don't last as long as advertised. Which is why I've new ones ordered, and why I've 4 flashes with me, and additional triggers. The power from the flashes, the design, the remote power are all exactly what I need. The batteries I got with mine.. not so much. And I've heard the same from a mate with his ones. I guess I'll stick with the Godox branded ones next time.
When you're on the job you have to have spares. My spare camera is in the studio less than 10 minutes from this job, so I wasn't pushed about that, but I was worried about the flashes. This morning I did a quick charge on the lower of the 2 batteries. Despite saying it was at 2/3 power on the flash, it charged from 20% up. The full flash probably did about 100 1/8 power pops before it died. Some were 1/32, some were 1/4, but on average it was 1/8. Not 650 full power flashes.
We'll see when the new batteries (and the Godox v860c TTL flash) arrive for sure!
As to the rest of the gear, it allows me to get all I need in a house, and for Airbnb, the 85 means I have a lens for the host portrait. The Lasolite trifold gets used for these portraits, or for shots requiring bounced light where there's not available wall!
---